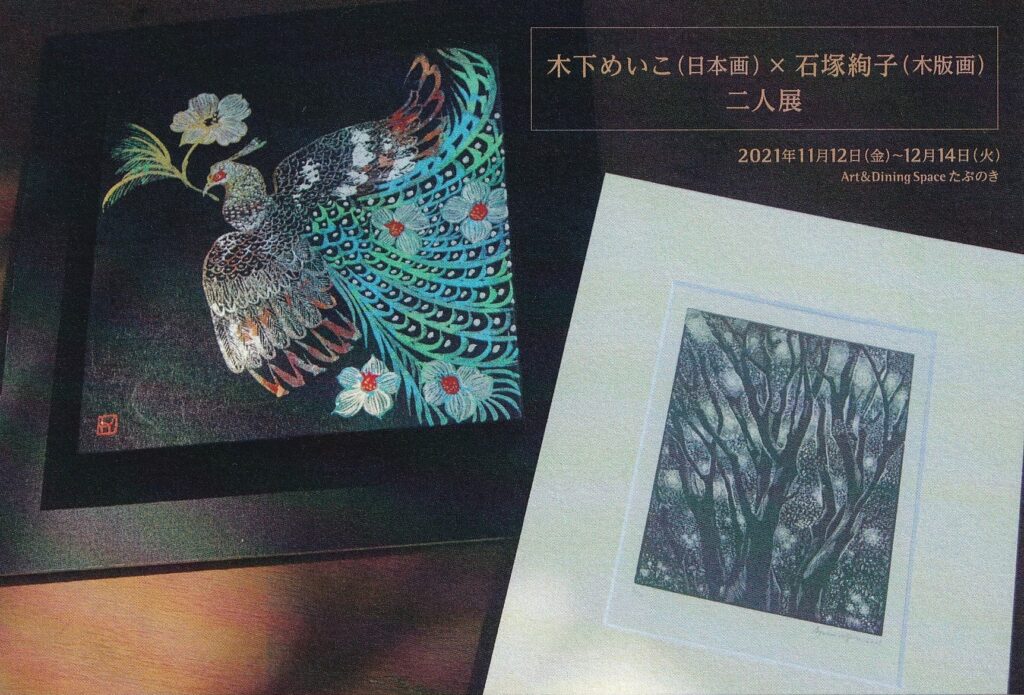 ◆19~24 October, 2021 Lin Print Workshop Group Exhibition in Yokohama◆ 
venue : Kanagawa Kenmin Hall / free entrance
You'll see various techniques of prints since it's the exhibition by all members of the workshop.
◆12, November~14, December, 2021 Duo Exhibition in Koshigoe, Kamakura◆ (Thanks to the gallery owner, the exhibition period has been extended to February. The gallery's New Year holidays :15th, Dec~14th, Jan.) 
venue : Art and Dining Space TABUNOKI / free entrance / closed on Wednesdays &Thursdays and 14th, Nov.
Duo exhibition by Meiko Kinoshita and me. Meiko, who is my mate at the same cram school and university of the arts, is now an up-and-coming Japanese-style painter. Her paintings are of pretty large sizes usually, so it'll be a precious opportunity to see her works in small sizes.
2021年のグループ展のお知らせです。
◆リン版画工房展:10月19日(火)〜10月24日(日)◆
神奈川県民ホールギャラリーにて。工房会員全体での展示ですので、沢山の方々の様々な技法の版画を見ることが出来ます。入場無料。
◆二人展:11月12日(金)〜12月14日(火)◆(2022年2月頃まで延長)
腰越にある"Art&Dinig spaceたぶのき"にて。日本画家木下めいこさんにお誘い頂き、二人展をすることになりました。木下さんとは同じ美大予備校、同じ美術大学というご縁です。精力的に活動されている気鋭の日本画家である木下さんと、まだ制作を始めて日の浅い私が一緒に作品を展示出来るのは光栄です。大きめの作品を手がけることの多い木下さんの、小さいサイズの絵が見られる貴重な機会です。日本画、版画ともに販売致します。絵を見に入って頂くだけでも大丈夫ですし、喫茶やお食事も出来ます。水木定休日、11月14日(日)は観覧不可。(2021年12月16日追記:店主ご厚意により、期間延長予定です。年内は一度12月14日で終了いたしますが、2022年1月15日頃より再開、2月中も展示予定です。一部展示替え有り。詳細はたぶのきまでご確認ください。)